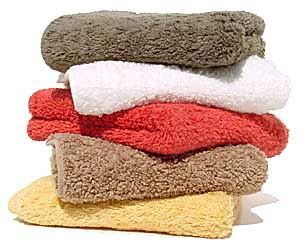 Have you ever looked into the face of your child and thought, "Why don't they just get it?" I know I have. Part of me is tempted to give in and just move on, but inside of me, I know that I can't. Sure, I can just skip the conversation, overlook the offense, avoid the confrontation, but I can't. I feel compelled to go on. Not because they have to get it, but because both of them are children of God, an inheritance from God Almighty (Psalm 127:3). Before the Lord, it is my duty to train them up in the way they should go, and when they are old they will not turn from it (Proverbs 22:6). They are worth the extra time and effort to bring encouragement, correction, exhortation, and discipline.
So, I continue and want to continue because she's not the problem--I am, my attitude is, my outlook is the problem.
When I reach this crossroad, I can either throw in the towel or throw in the towel. Ummm, isn't that the same thing? Nope, they are actually two different choices.
A. Throw in the Towel
Throw my testimony away in front of my children, throw a fit, or throw a pity party. In this scenario, I am throwing in the towel on the work of Holy Spirit and declaring my flesh victorious.
B. Throw in the Towel
Throw my emotions to the side and my expectations too, throw myself into prayer, throw myself into praising, throw myself at His feet
So you see, next time you're at that crossroad, give up, quit, throw in the towel of doing things your way and declare Jesus victorious over this situation!
This day I call heaven and earth as witnesses against you that I have set before you life and death, blessings and curses. Now choose life, so that you and your children may live
Deuteronomy 30:19