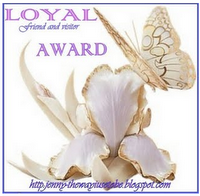 Laura from
My Lovely Days
 was so kind to share this lovely award with me. She's all the way from Texas and I'm here in NYC, which goes to show that you can enjoy fellowship with sisters in Christ you've never even met.  
I think it's so beautiful that as sisters in Christ, we can encourage one another!
So I'd like to present it to my sister Sydney@
Saved by Grace
, whom actually discovered I had received the award and whom I had joked about not blogging in a while (but she just had a baby so I understand and since instead of reading about the girls, I actually get to see them, I guess it's OK).  You're so supportive and I love you:)
And I would also like to present it to Jasmine over at
Windmills and Tulips
, whom I've never met in real life, but share in her blessings in bloggyland. Thanks Jasmine for giving us a look into your life, your transparency and sincerity are a blessing.  
Here are the rules of acceptance:
1. Copy the loyal picture above and post it on your blog
2. Pass it on to whom you think is/are deserving
3. Leave a message to them
4. Pass as many as you want
5. Message back or leave a comment to the owner